Horological Machine N°9 'Flow' is Inspired By the Dynamic Profiles of Automotive & Aviation Mid-Century Design. 
Features
September 24, 2018
In the post-war years of the late-1940s and 1950s, aerodynamic principles were just beginning to take root in the field of automotive design. The boxy, carriage-like shapes of previous decades were melting into something more streamlined. At the same time, curvilinear forms became more prominent, carrying the immediate promise of power and speed. The sophisticated computer modelling and wind-tunnel technology we have today were far-off dreams at that time – designers were guided more by their aesthetic sense than by any scientific precepts.
The result was some of the most beautiful man-made objects ever created, epitomised by automobiles like the Mercedes-Benz W196 and 1948 Buick Streamliner. Other industries followed, notably that of aviation, producing aircraft such as the sleek-bodied, snub-nosed De Havilland Venom that patrolled Swiss airspace for 30 years.
MB&F presents the Horological Machine N°9 'Flow', inspired by the dynamic profiles of automotive and aviation mid-century design.
Reminiscent of a jet engine, a highly complex titanium case in alternating polished and satin finishes encloses an equally complex manual winding movement, developed fully in house. Independent twin balance wheels beat at a leisurely 2.5Hz (18,000bph) on each flank of Horological Machine N°9, visible under elongated domes of sapphire crystal. A third pane of sapphire crystal on the central body reveals the gearbox of the HM9 engine: a planetary differential that averages the output of both balance wheels to provide one stable reading of the time.
Sitting perpendicular to the rest of the HM9 engine is the dial indicating hours and minutes, driven by conical gears that ensure precise engagement even when motion is put through a 90° planar translation. The winding and setting crown is located on the rear of the central body, its deep fluting providing ergonomic grip as well as aesthetic coherence with the overall design.
Two satin-finished air scoops are mounted alongside the pods containing the oscillating balance wheels, evoking the raised vents that allow continuous airflow to high-performance motor engines.
HM9 Flow treads the path first opened by the HM4 Thunderbolt and subsequently by the HM6 Space Pirate, utilising a geometrically complex combination of milled sapphire crystal and grade 5 titanium case elements. However, HM9 goes beyond its predecessors, redefining what was thought to be possible in case design – illustrated for example by a patented three-dimensional gasket ensuring water resistance.
Horological Machine N°9 'Flow' debuts in two titanium editions limited to 33 pieces each:
the 'Air' edition comes with a dark movement and aviator-style dial;
the 'Road' edition has a rose gold plated movement and a classic speedometer-style dial.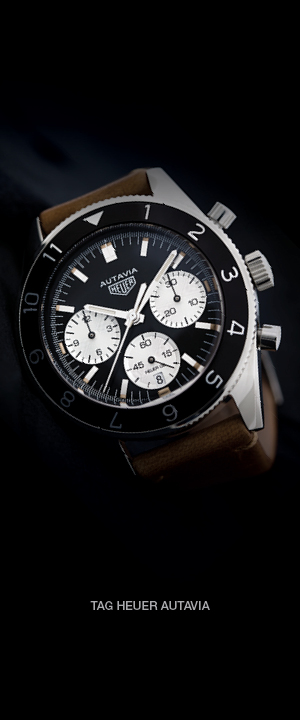 At the outer limits of design
A lifetime car aficionado, MB&F founder Maximilian Büsser first channelled the visual cues of the mid 20th century in the 2014 HM6 Space Pirate, particularly in its "Streamliner" SV editions. Now in 2018, MB&F goes even further and presents one of its most ambitious designs yet.
Horological Machine N°9 'Flow' is audacious in its design, not simply because of its unconventional form, but because of the extremes to which it takes this form. Mould-breaking, transgressive case shapes are nothing new to the MB&F Horological Machine collection, but HM9 has rejected all limits. Its extreme curves and acute angles required new manufacturing standards and techniques to obtain a complete milled and finished case.
Horological Machine N°9 'Flow' was not designed with current manufacturing techniques in mind. Its curves are too pronounced and its finishing requirements too strict.
When the MB&F team first brought the HM9 designs to their manufacturing partners, the response was quick and unambiguous: these designs could not be realised. Other cases, such as the undulating shell of the HM6 Space Pirate, were geometrically complex, but their maximum height differential (the vertical distance between contiguous points) remained within 5mm. With HM9, that differential doubled, creating radical curves that give the case its highly tactile presence.
These steep curves are paired with slim bands of mirror polish and wider swaths of satin finish, raising issues when finishing tools of fixed diameter (say 10mm or more) had to somehow navigate the narrow channels of the case exterior. Adjusting the placement of different finishes in order to accommodate the finishing tools was not an option, as this would have diminished the full-volumed aesthetic of HM9.
The dramatic geometry of Horological Machine N°9 'Flow' could only be supported by equally dramatic contrasts of finished surface, so manufacturing conventions evolved to meet the demands of HM9.
Because of the proportions of the curves on the HM9 case, it was essential to control the overall size. Horological Machine N°9 'Flow' measures 57mm at its widest point and requires a highly compact yet robust engine. Perhaps the most interesting aspect of HM9 is how its exuberant, expressive design is possible only because of the restraint and spatial efficiency of its engine.
The wide-to-narrow alternating arrangement of the three primary volumes of the HM9 case made it impossible to install the movement by conventional means, within a case with limited transverse symmetry. It was necessary to divide the case along two axes and devise an unprecedented three-dimensional gasket for water resistance. This patented innovation is completely novel in its execution throughout the watchmaking industry.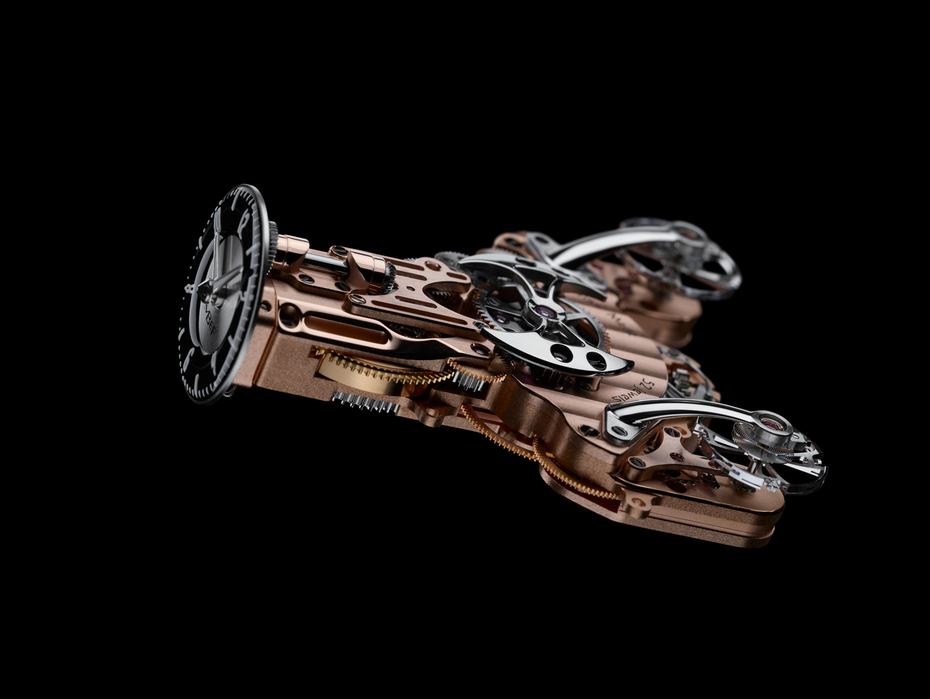 About the HM9 engine
The result of three years of development, the HM9 engine was created entirely in-house, with the accumulated experience that came with MB&F's 13 years in existence (in 2018) and previous 14 different movements.
Long-time MB&F collectors and fans will recognise the mechanical pedigree of the HM9 engine. Its double-balance with differential is descended from the similar system in Legacy Machine N°2, albeit in vastly different aesthetic form. Whereas LM2 emphasised design purity and the hallucinatory effect of its suspended oscillators, HM9 is exultant in its celebration of expressive design.
The twin balance wheels of the HM9 engine feed two sets of chronometric data to a central differential for an averaged reading. The balances are individually impulsed and spatially separated to ensure that they beat at their own independent cadences of 2.5Hz (18,000bph) each. This is important to ensure a meaningful average, just as how a statistically robust mathematical average should be derived from discrete points of information.
Two balances beating within the same movement will inevitably bring up discussions of resonance, the mechanical phenomenon that describes linked oscillators in a state of mutual harmonic excitation. As with the LM2 engine, HM9 deliberately avoids inducing the resonance effect. Its purpose in including two balance wheels is to obtain discrete sets of chronometric data that can be translated by a differential to produce one stable averaged reading. This purpose would be defeated by two balances oscillating perfectly in phase, giving the same chronometric data at every point.
HM9 further calls out the MB&F Legacy Machine collection with the curved arms anchoring its balances, their polished steel finish contrasting vividly with the movement bridges. There are two versions of the HM9 engine, one with a dark NAC coating and another in matte rose gold coating.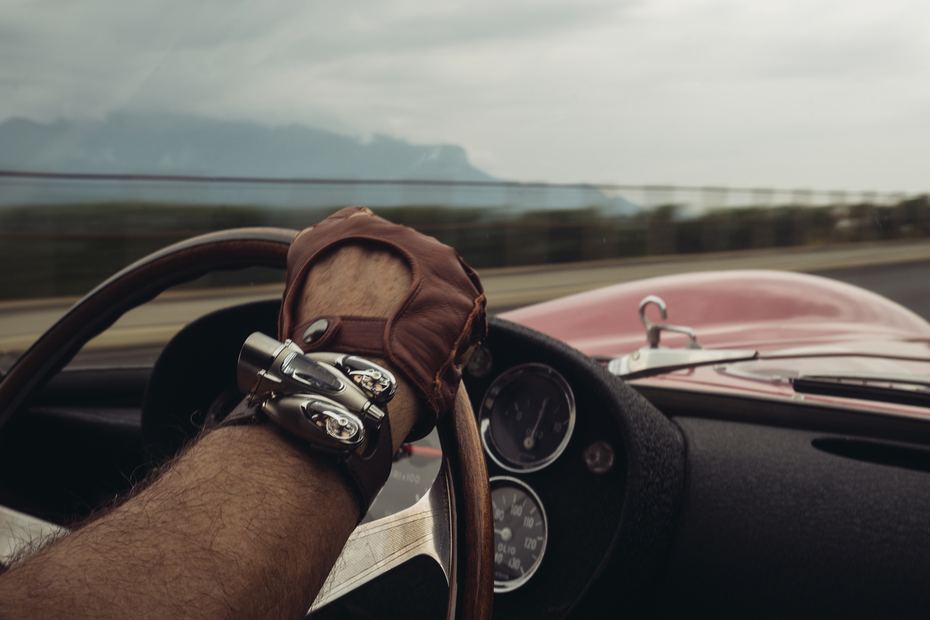 HM9 Flow – Technical specs
Two launch editions of Horological Machine N°9 'Flow' in grade-5 titanium, limited to 33 pieces each:
Road edition with rose gold plated movement and speedometer-type dial;
Air edition with darkened NAC movement and aviation-style dial.
Engine
Manual-winding in-house movement
Two fully independent balance wheels with planetary differential
Frequency: 2.5Hz (18,000bph)
Single barrel with 45-hour power reserve
301 components, 44 jewels
Hours and minutes on vertical dial display
Case
Grade-5 titanium
Dimensions: 57mm x 47mm x 23mm
43 components
Water resistant to 3ATM (30m); assembled in three segments with patented three-dimensional gasket
Sapphire crystals
Five sapphire crystals treated with anti-reflective coating
Strap and buckle
Hand-stitched brown calf-leather strap with custom-designed titanium folding buckle
Agree? Disagree?
Be the first to start a discussion.