Disruptive watchmaker produces iridescent green iteration of its radical aquatic timepiece.
News
April 26, 2018
The jellyfish has surfaced again. And this time there's a green sting in its tail.
It's a rarity for MB&F to get nervous. So outrageous and innovative have the radical watchmaker's models been to date — from their space exploration pieces (HM2, 3 and 6) to the Thunderbolt (HM4) — you'd would have thought they had nerves steel and the confidence of Sean Connery's James Bond.
And yet, the high-concept watchmaker admittedly felt nervous when they first developed the 'aquapod' – HM7.
That nervousness seems to have faded. And in its place something even more outrageously daring has surfaced: the green jellyfish.
Originally launched in 2017 at SIHH, MB&F's MB7 was the brand's first aquatic-themed watch, available in red gold with black ceramic bezel, and in titanium with blue ceramic bezel. Now HM7 is back in a titanium case with a green sapphire crystal bezel, limited to 50 pieces.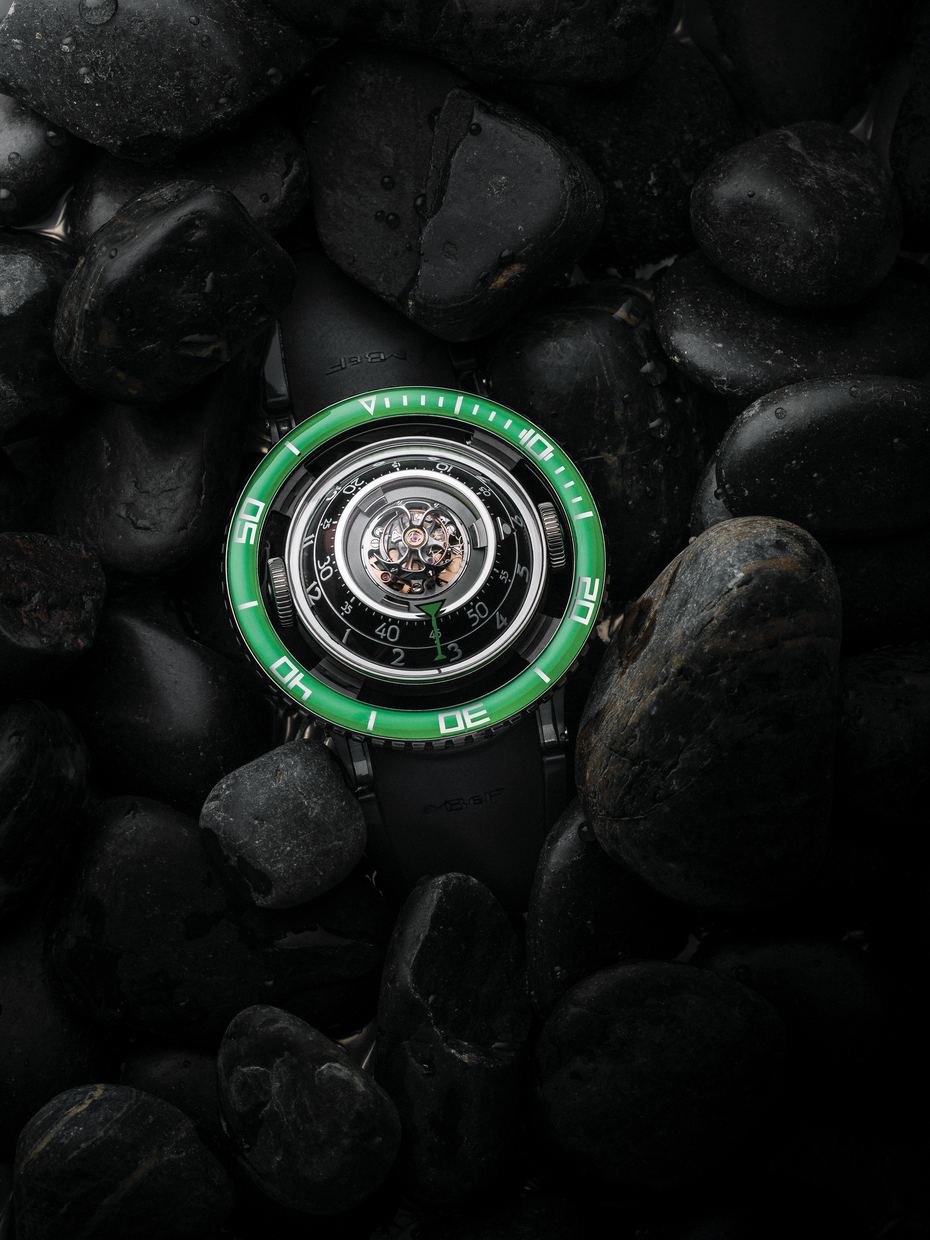 The aquatic design of HM7 Aquapod is counter-balanced by the mechanical horology inside. A central flying tourbillon tops the concentric vertical movement architecture, with indications radiating out from the centre like ripples in a pond.
The gelatinous sea creatures known for their sting (and the unsavoury antidote to it) are represented in the HM7 to its very foundations.
HM7 Aquapod began its gestation as a horological jellyfish, and the architecture of its engine is appropriately biomorphic. Jellyfish are radially symmetric, Aquapod is radially symmetric. Where a jellyfish generates power from food caught in its tentacles, HM7 generates power from its tentacle-like automatic winding rotor.
Where jellyfish have a radially symmetric ring of neurons for a brain, Aquapod has radially symmetric rings displaying hours and minutes. Where jellyfish have a hood or bell on top, HM7 Aquapod has an imposing flying tourbillon regulating the power generated by the rotor, and transforming it into the display of time.
The winding rotor's tentacles are crafted from a solid block of titanium; their very three-dimensional nature makes machining and finishing extremely challenging. Underneath the tentacles, a platinum mass ensures powerful and efficient winding.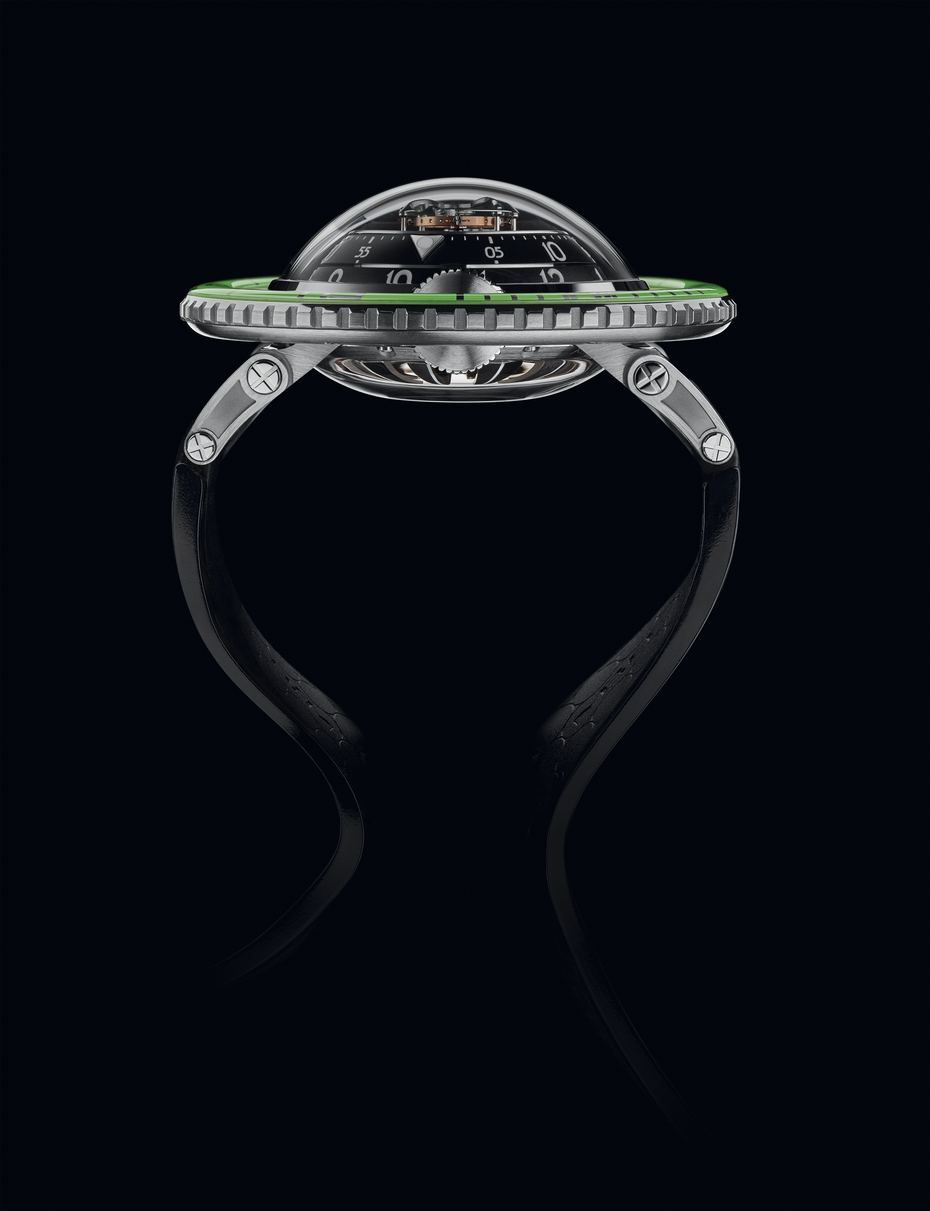 While Horological Machine No.7 is not a dive watch, it is a timepiece comfortably at home in the water, so MB&F added the one element that all serious aquatic watches possess: a unidirectional rotating bezel. However, unlike every other dive watch, Aquapod's bezel isn't attached to the case, but floats like a buoy.
The 303-component, 72-hour power reserve HM7 Engine was developed in-house by MB&F. Spherically three-dimensional, all its mechanisms — from the winding rotor at the bottom, past the mainspring barrel and hour and minute displays, to the flying tourbillon on top — rotate concentrically around the centre.
The curves of the high-domed sapphire crystal are mirrored in the shape of the time display rings, which are not simply flat and angled, but are mathematically precise, curved spherical segments.
And, like many jellyfish, HM7 glows in the dark: both where you would expect it to — on the hour and minute numerals — but also around the inside of the movement, to light up that flying tourbillon at night. And what's more, the tentacle-like winding rotor lights up in the dark, so its complicated operation can be seen at all times.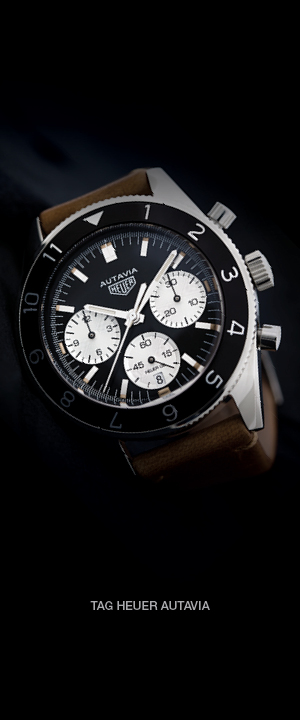 Agree? Disagree?
Be the first to start a discussion.