A look at the current crop of sailing chronographs.
Reviews
October 31, 2017
Ulysse Nardin Marine Regatta
The idea of a starting cannon in competitive sailing is somewhat misleading: by the time it has sounded, the race may already have been won or lost. While wind dictates a rolling start, the rulebook insists boats do not cross the starting line before the cannon has been fired, so yachts jostle for best position before the race, making a reliable countdown vital. Ulysse Nardin has revisited a well-worn concept and engineered the heck out of it with no fewer than 650 components. The Marine Regatta appears fairly pedestrian with an adjustable 1-10 minute countdown scale. But it has a secret weapon; a bi-directional central seconds hand that counts down, anti-clockwise, to zero before instantaneously reversing direction and serving as a 12-hour race timer, with minutes and hours subdial. 

Price: £12,700
In a nutshell: The Marine Regatta adds a different, and very intuitive, dimension to an established complication and brings a complicated watch in at a seriously competitive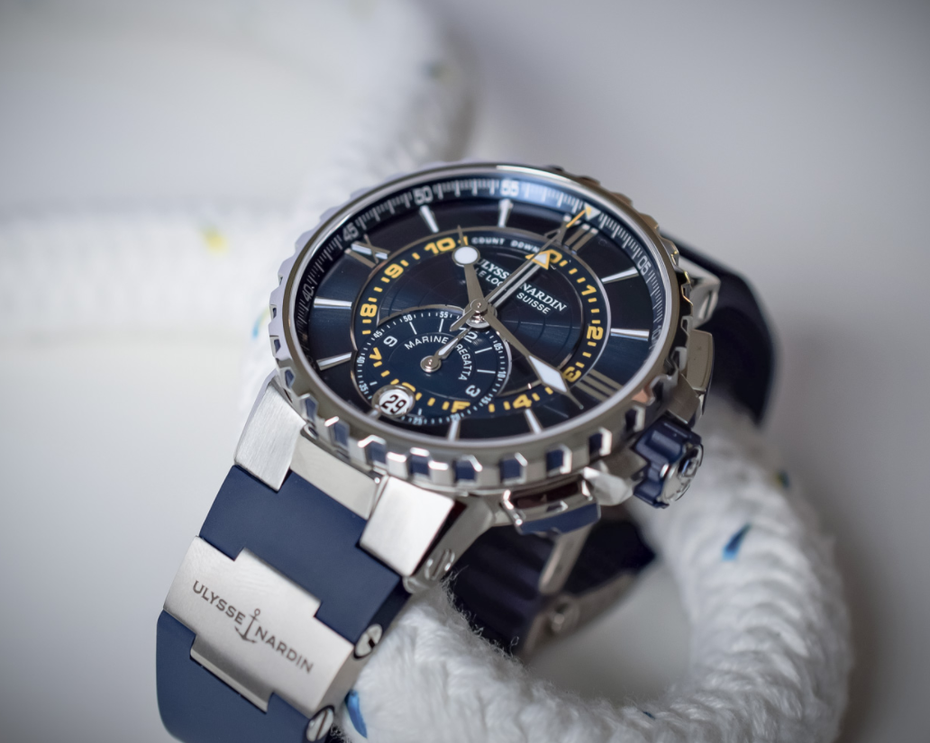 Rolex Yacht-Master II
Rolex's Yacht-Master II has been refreshed for 2017 with blink-and-miss-them new dial markings – a triangular lume pot at the 12 o'clock and a rectangle at the six o'clock – as well as receiving a new hand set to incorporate the 'Mercedes' hour hand and bring the watch more in-line with Rolex's Oyster Professional series. The 'start-up' sequence is somewhat convoluted, involving a bezel twist, depressing the reset pusher and, somewhat counterintuitively, considering the watch is likely to be used on the water, unscrewing the crown. But once you get the hang of this procedure, the Yacht-Master II is eminently user-friendly, with a flyback function allowing users to synchronise their countdown with race signals. 

Price: £13,700
In a nutshell: Rolex's most complicated, and yet still relatively affordable, watch gets a Professional facelift.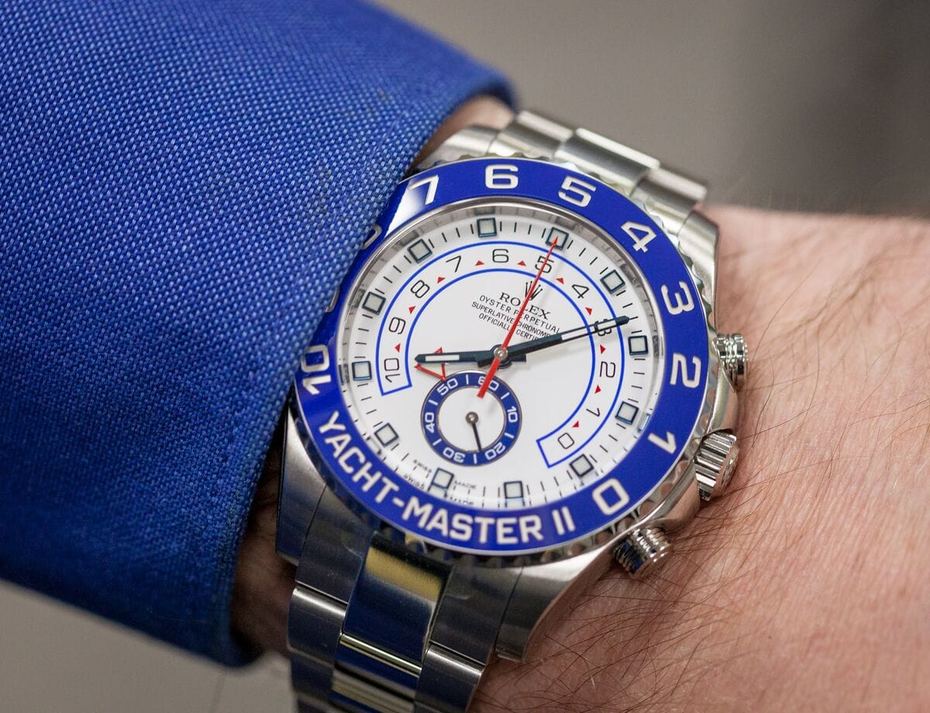 Panerai Luminor 1950 Regatta Oracle Team USA
Panerai has reaffirmed its nautical roots in the 21st century by founding its very own global classic yacht series, the Panerai Classic Yachts Challenge, but this year also becomes the watch partner of the America's Cup, as well as not one, but two of the six teams competing in 2017. The partnership has prompted a collection of five new watches, including this 47mm brushed titanium regatta timer and flyback chronograph, which serves as the official watch of defending champions Oracle Team USA. Panerai has added a third pusher to set the countdown in one-minute intervals to a maximum of 15 minutes, while two pushers on the left side of the case perform stop/start and reset/flyback duties.

Price: £14,450
In a nutshell: Given Panerai's long nautical heritage, it's hardly surprising that their regatta timer looks the most likely to be used in anger.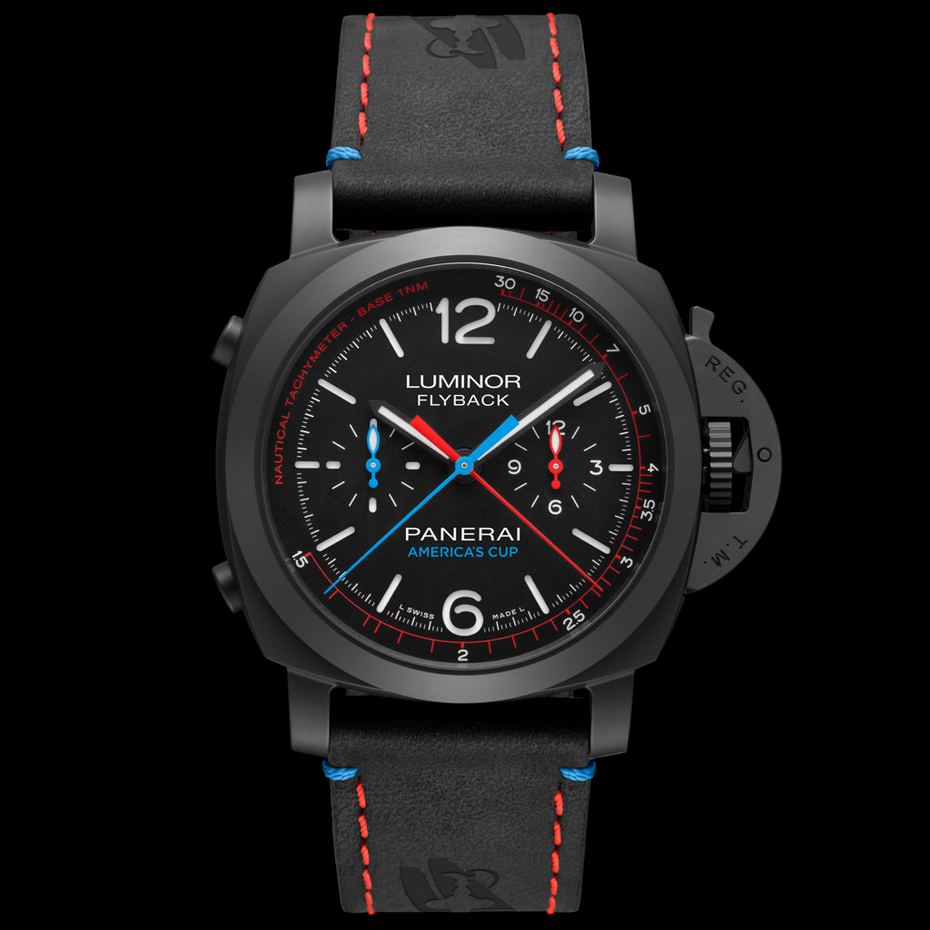 Bremont AC-R-II
The AC-R-II effectively marks the culmination of Bremont's affiliation with the America's Cup, and sits neatly between the existing sportier and dressier models. It dispenses with the colour-contrast bezel of the AC-R-Ti (as well as dropping the titanium case in favour of stainless steel) and overhauls the dial layout. Legibility is improved, but crucially, this isn't a countdown timer – merely a chronograph with a 15-minute register at 12 o'clock that's numbered backwards, a somewhat ingenious (and less costly) take on the sailor's requirements. The inner rotating bezel has a 60-minute scale, adjusted by a second crown at the eight o'clock position, adding the option of timing longer events.
Price: £4,895
In a nutshell: The simpler design is an improvement on Bremont's real regatta timer, but reflects its reduced functionality.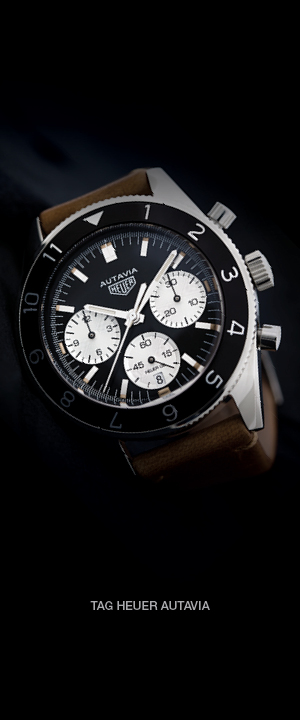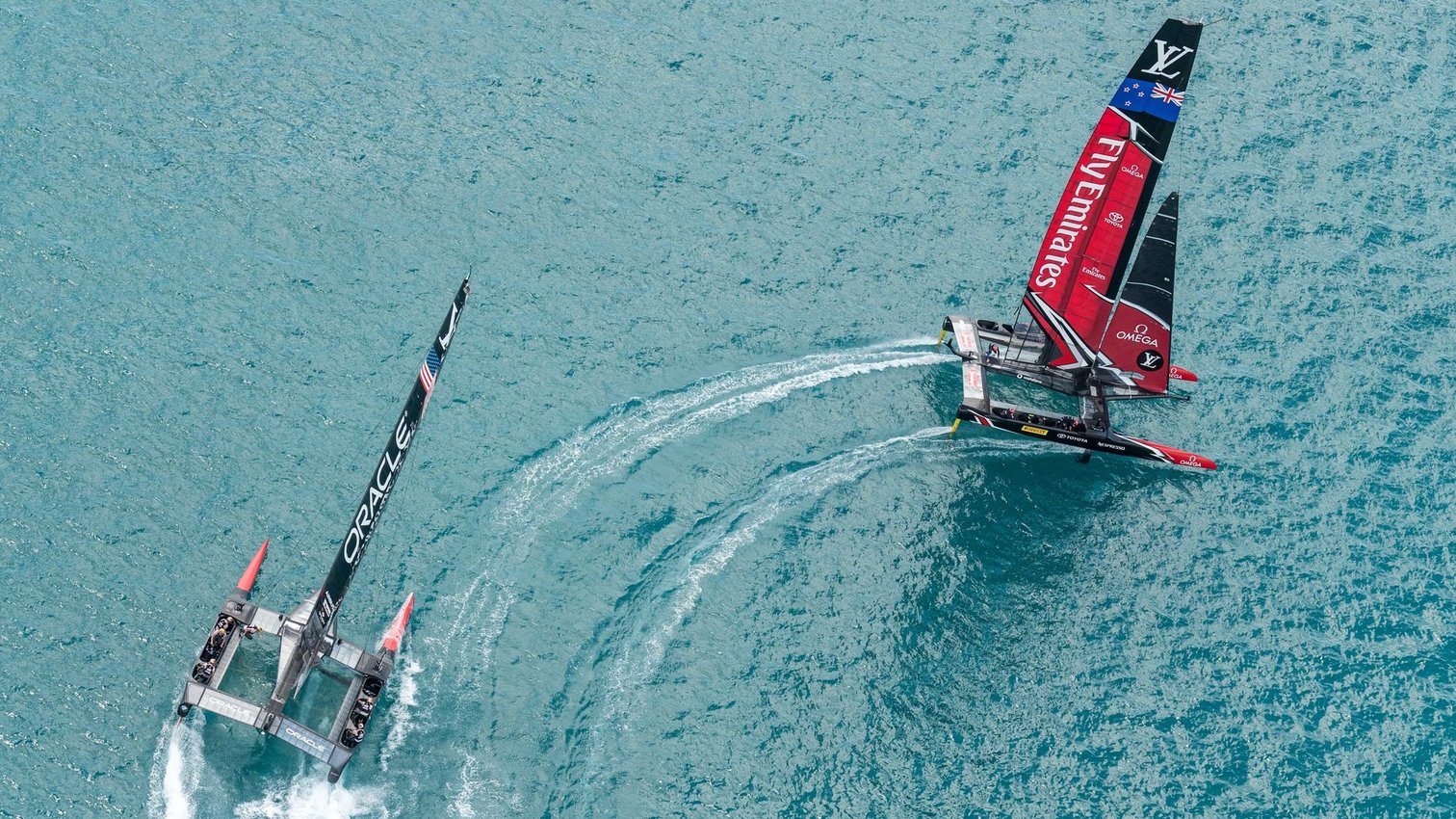 Zenith Chronomaster El Primero Sport Land Rover BAR Team Edition
The name rivals Panerai for mouthful status, and reflects the fact that Zenith has bagged some America's Cup presence via Land Rover's sponsorship of Ben Ainslie's BAR effort. Nothing wrong with that per se, and the watch looks the part: 45mm case, carbon fibre weave on the strap, dashes of racing red against a shades-of-grey dial. All very proper. The watch is water resistant to 200m and has some chunky chronograph pushers – all of which suggests it could realistically be used on the waves. But – and it's a big "but" – the Chronomaster falls down in that it's not a proper countdown timer – just an ordinary chronograph. 
Price: £6,700 
In a nutshell: Far be it for us to suggest that this was rushed to market, but surely Sir Ben deserves a proper countdown timer?
Omega X-33 Speedmaster Skywalker
Omega's involvement with America's Cup participant Team New Zealand dates back to 1995 and has resulted in at least six Seamasters, but this year it's time for something a little different. Going with its multifunctional quartz platform is an entirely sensible decision given the number of digital watches on the wrists of sportsmen and women around the globe. Omega uses a thermo-compensated quartz chronograph movement with analogue hands to indicate current time as well as countdown function. The X-33's three digital displays are then used for all manner of time zones, calendars, alarms, regatta countdowns, and ordinary chronograph functions controlled by the 45mm titanium watch's four pushers.

Price: £3,920
In a nutshell: If you can overlook the battery-powered nature of the Omega, it is by far the most functional featured here.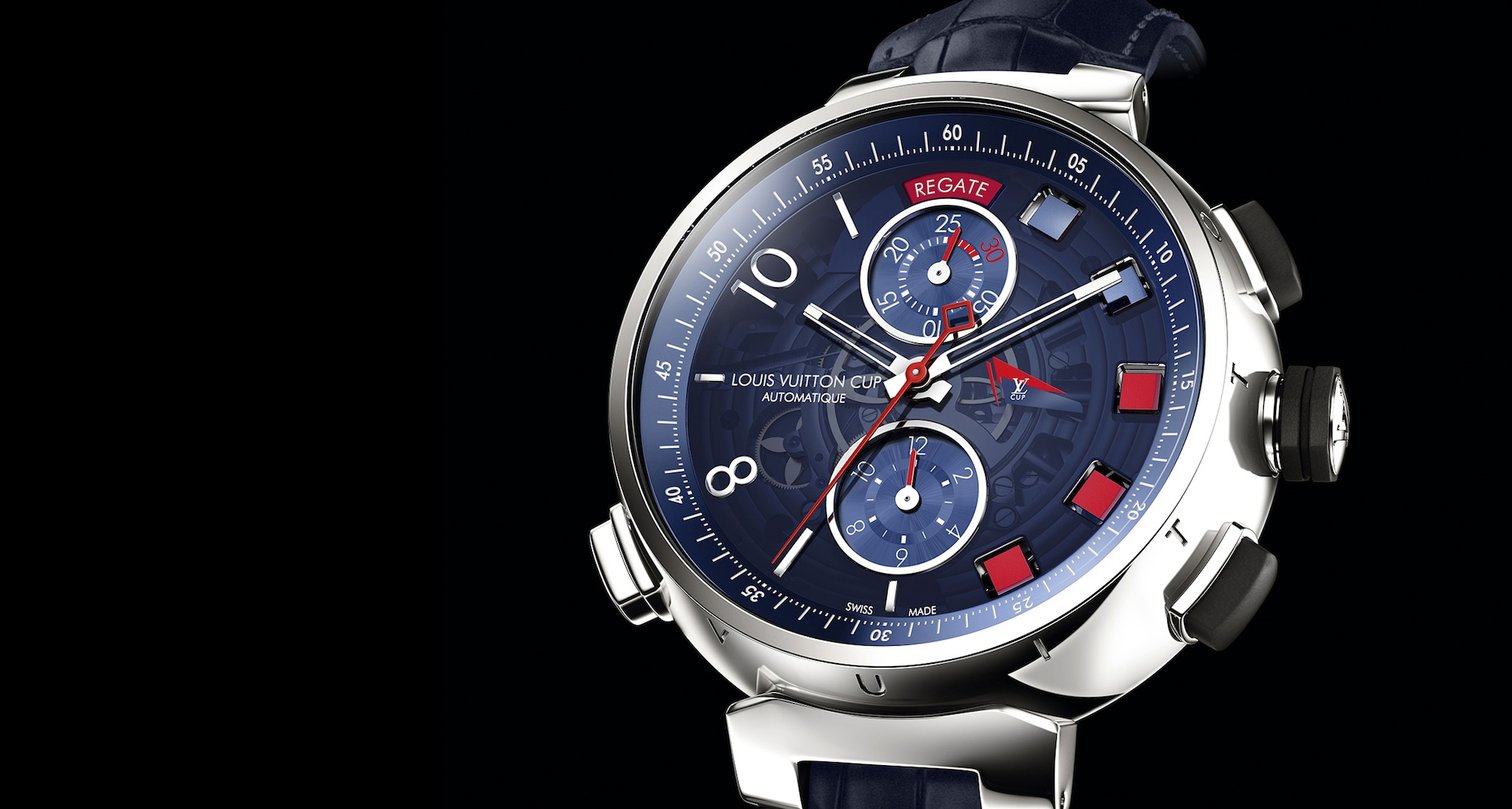 Louis Vuitton Tambour Régate Automatique
As overall sponsor of the America's Cup – not to mention having an unimpeachable claim on the business of nautical travel – Louis Vuitton's dashing watch collection has included a number of regatta timers in recent years from an entirely lovable variation on the Spin Time to some fiendishly complicated quartz. This Tambour Régate Automatique flyback chronograph is actually the only watch in this Six of the Best to employ the most commonly used regatta timer display, namely five distinct sectors that change colour to signify the minutes counting down before a race. Here, those sectors bridge the running seconds and 15-minute subdials, forming the silhouette of an upended spinnaker with a date window sitting on top at the 12 o'clock. If this were anyone else it probably wouldn't work, but the supreme confidence of the rest of Louis Vuitton's design work carries it through with aplomb.

Price: £33,000
In a nutshell: While regatta timers nearly always have a colourful charm about them, this LV is practically impossible to resist.
---
This article was first published on Salon QP
Agree? Disagree?
Be the first to start a discussion.