Modern watch designs eschew traditional dials and hands in favour of inventive alternatives.
Reviews
October 31, 2017
HYT H0 Silver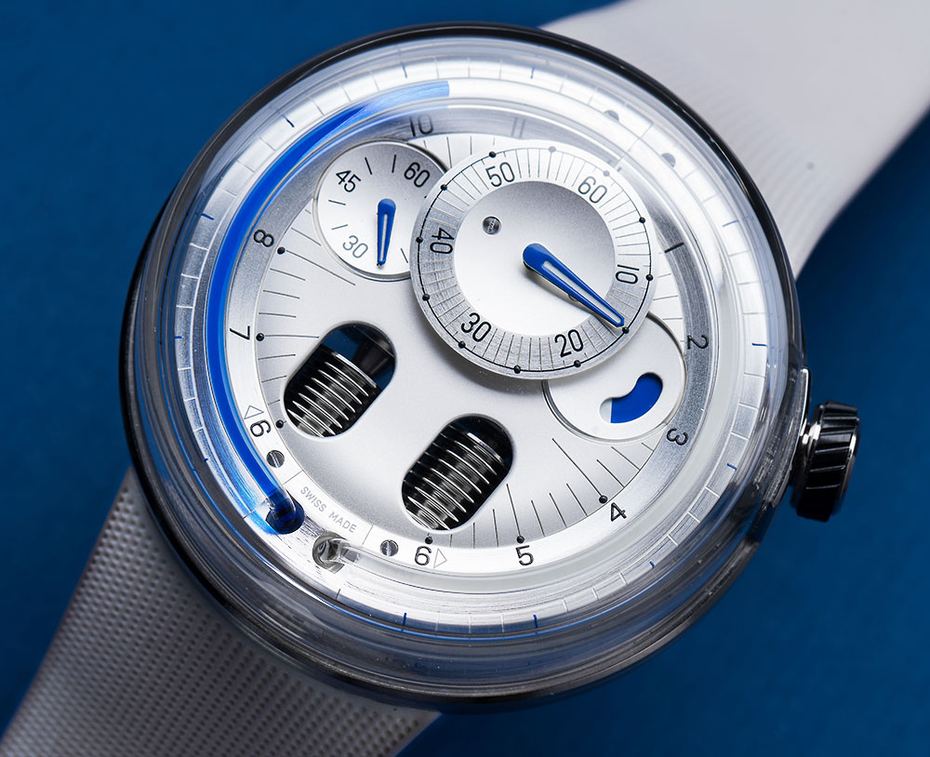 There's always been something exaggerated about the visible components within HYT's watches, almost as though the micro bellows and turbine blade small seconds indicator on the dial have been designed as caricatures to hammer home the point that the brand does things in a different manner. There's no such issue with HYT's latest design, the H0 Silver, which according to the brand is "pared down to the essential".
The functional components have been covered by a vast, satin-finished metal dial, which itself is enveloped by what is almost certainly the tallest glass-box sapphire crystal ever created. The dial – which still offers a peek at the bellows inside – serves as a calming canvas on which to host highlight colours (in this case, blue) which in turn shines a spotlight on HYT's real USP, that fluid-filled capillary tube that indicates the hours. It's a far more restrained design than we are used to seeing from HYT, but no less modern.
Price: $39,000
Sevenfriday P3/06 Yacht Club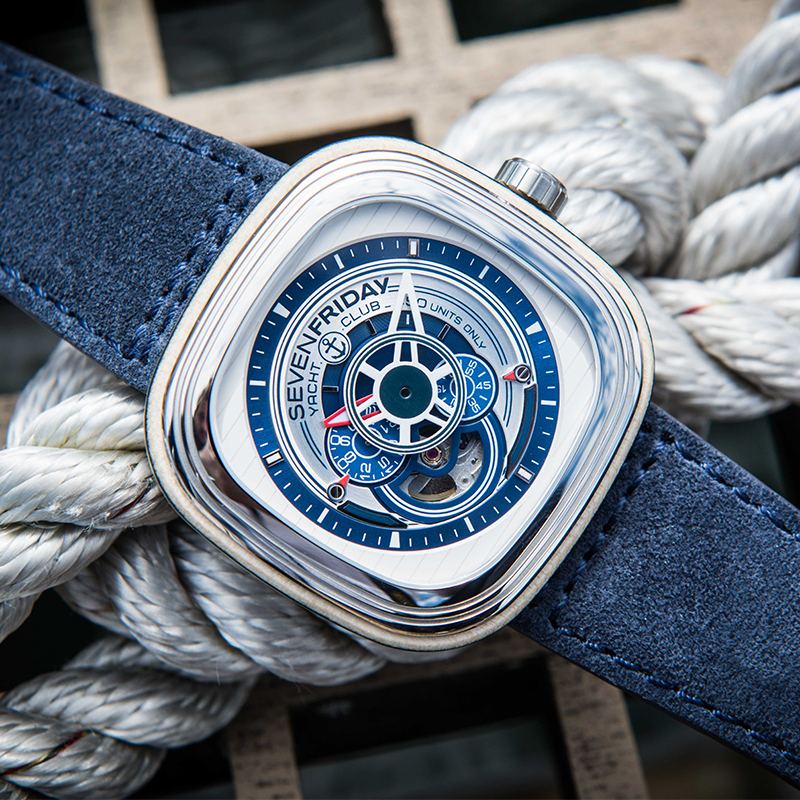 It's difficult to shake the feeling that Sevenfriday, in just five years of operation, has been one of the most influential new watch brands to emerge in the 21st century. Disruptive to the core, both in its approach to marketing and the design of their watches, the brand began by tearing away at the recognised structure and appearance of the wristwatch. Sevenfriday repositioned so many elements on the dial that the term no longer seemed appropriate: they prefer "interface".
While only the M-Series has dispensed with hands altogether, the majority of its watches have taken a pick 'n' mix approach to displaying the time, employing discs, retrograde scales and indicators, often on the same watch. This latest watch, the P3/06 Yacht Club is a 450-piece limited edition tribute to life on the ocean waves based around an automatic Miyota movement and follows the second of two design themes vital to the brand's success. (The first being a reccuring association with motorbikes.) Here though, it is all about the eternal holiday that the brand conjures through its name and carefully curated Instagram account.
Price: £1,380
MB&F HM7 Aquapod
Max Busser has made a business out of surprising with his watch designs, but few were prepared for just how outré his latest horological machine was. The blue on platinum bezel dominates proceedings, telegraphing the language of the dive watch. However this bezel isn't mounted on the domed case but rather surrounds it like a coral atoll enveloping an island. Taking inspiration from jellyfish, HM7's rubber strap arms dangle from its floating lugs like tendrils.
While everything about the watch suggests it would be perfectly at home underwater, the unusual architecture of the case does restrict HM7 to the comparative shallows of 50m. Two discs – one for hours and one for minutes – are mounted inside the central sapphire crystal dome, which also houses a 60-second flying tourbillon.
Price: CHF98,000 
MCT Sequential Two S220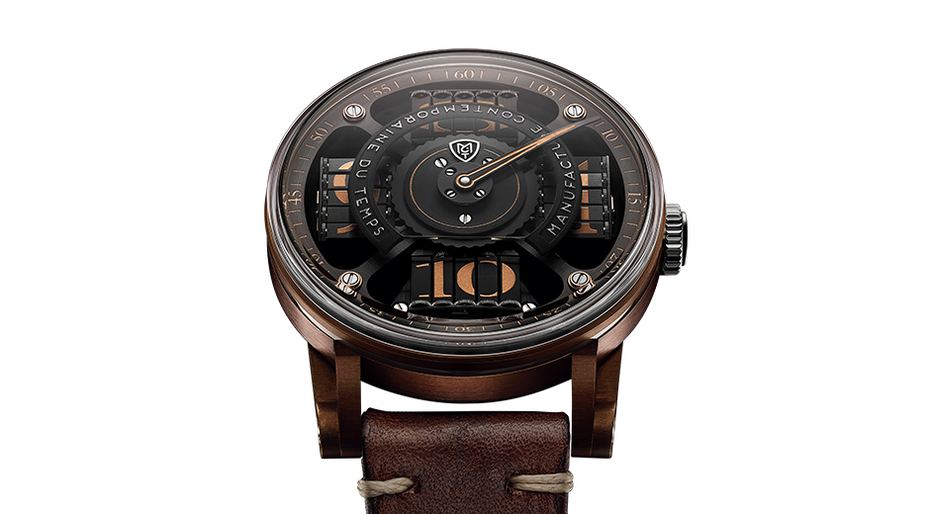 MCT's over-engineered update of the wandering hours concept has always been intriguing in its ambition and complexity. A C-shaped ring at the centre of the dial frames one of four displays – one set at each of the compass points – rotating sequentially through 90 degrees in an anti-clockwise direction on the turn of the hour.
Each display is made of five rotating prisms and by rotating these can display three Arabic numerals. Four displays with three numerals equals 12 hours. Got all that? Good. This incredibly complicated display requires 504 components and more than 85 ruby pivots to work. This year MCT embraced the trend for bronze watches and produced a 10-piece limited edition run of its round-cased Sequential Two in the reactive case metal.
Price: CHF79,900
Christophe Claret X-Treme-1 StingHD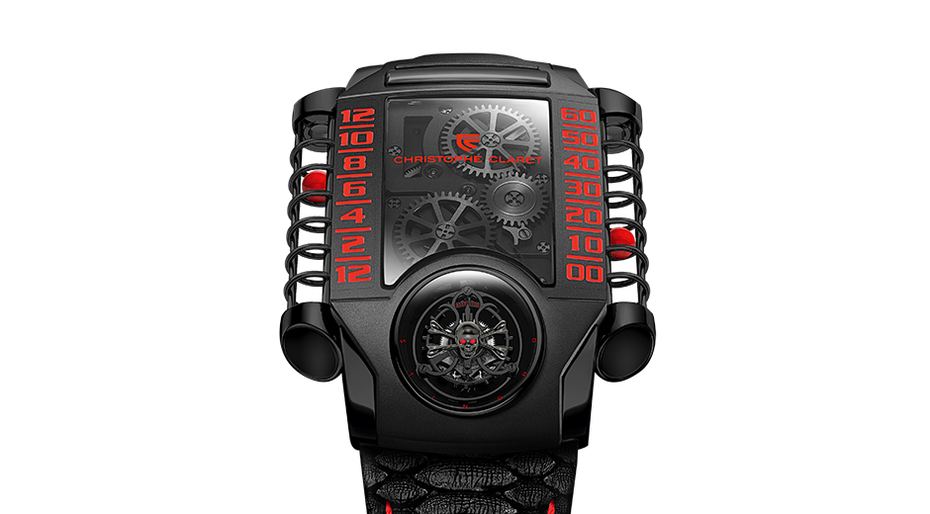 No mere hands or discs for Christophe Claret, that would be far too pedestrian. Instead the hours and minutes are displayed via two hollow metal spheres, housed in cages on either side of the case, which appear to levitate against numerical scales. But not even Claret can muster actual magic; instead the red lacquered balls are controlled by magnetic fields generated inside the case.
This latest, somewhat apoplectic, version of Claret's X-Trem-1, a model first unveiled in 2012, is given over to a rather devilish red and black colour scheme. The openworking of the timekeeping tubes (previously made from sapphire crystal) as well as a ruby-eyed skull on the flying tourbillon carriage lends a post- apocalyptic, Mad Max feel to the eight-piece limited edition.
Price: £268,800
Urwerk UR-106 Flower Power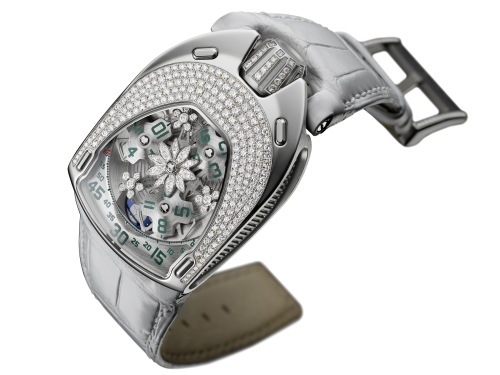 Baumgartner and Frei's satellite display concept may appear ultra-modern, but the wandering hour concept is now well over 300 years old. The UR-106 collection has set aside previous mechanical embellishments – those rotating cubes from the 110 and 200-series models – and now adopts the wandering hour principle wholesale. Here a three-stem carousel turns about a central axis and is fitted with individually rotating satellite discs at the end of each stem.
Each satellite disc is home to four hour numerals, allowing the current hour to track against a minute scale from 0 to 60 before it is replaced by the next hour on the following stem. Sped up wandering hour clocks and watches are a horological waltz; in real-time they are in fact an enormously intuitive way of displaying the time. This Flower Power variation of UR-106 is set with white gold flowers and 239 diamonds, and hidden beneath the carousel is a moon phase display.
Price: £78,900
---
This article was first published on Salon QP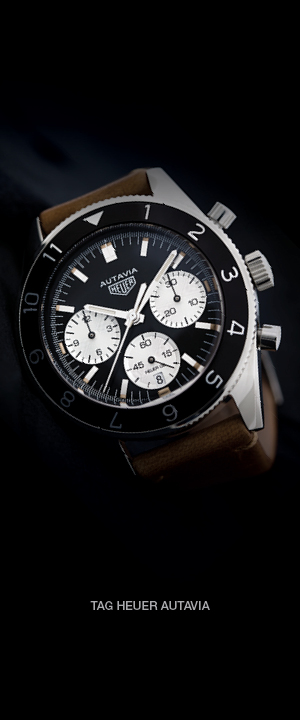 Agree? Disagree?
Be the first to start a discussion.