The Chopard L.U.C XP and XPS 1860 Officer are two ends of a widening spectrum.
Reviews
October 31, 2017
We have written enough about Chopard L.U.C in the past to leave little ambiguity about where we stand: as one of haute horlogerie's new boys, it represents a take on fine watchmaking that is by turns inventive, quirky, sophisticated and accomplished. It turned 20 last year (and launched a handsome GMT at Salon QP to celebrate), giving us cause to reflect on how the L.U.C banner has been able for the most part to successfully house a very wide range of styles while retaining a common strand that is identifiably its own.
Most of the boxes you need to tick to sit at watchmaking's top table are ticked: a perpetual calendar (as well as chronograph and tourbillon versions); a tourbillon; a hand-wound chronograph and most recently a minute repeater, not to mention plenty of other less common complications. But at the heart of the L.U.C range are the time-only watches, the XP and XPS. XP stands for "eXtra-Plat" – literally "extra flat" in French, and the addition of S denotes a small seconds subdial.
At Baselworld 2017 Chopard released two new XP-derived watches which broaden the reach of the L.U.C range, in two quite different directions. First up we have the L.U.C XP in stainless steel. Chopard L.U.C may be highly individual but it is not immune to the pressures affecting most of the high-end watch industry, and no-one is pretending that bringing out an L.U.C XP in steel is anything other than an overt effort to lower the entry level price point to L.U.C and – presumably – attract a new clientele.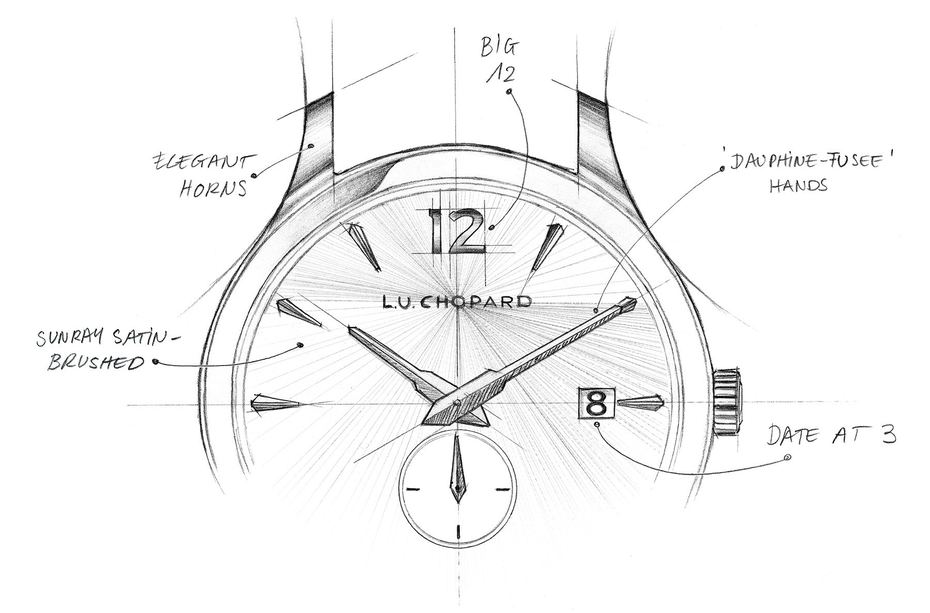 When brands release watches outside of their usual price bracket it can backfire – whether they're getting more or less expensive. So does this work?
The first thing to note about this watch is that, unlike every other L.U.C XP you could not consider it a dress watch. It's still thin, of course, at 7.2mm, and it's not immodest in diameter either, at 40mm. But look at it – those bright blue numerals and hands are a totally new, casual look for a Chopard L.U.C. It's almost sporty.  
You will also have noticed by now that Chopard is equipping this L.U.C XP with what looks like a denim strap. It's actually cashmere lined with leather, and it's very nicely made, but it's still hugely laid-back (you can also have blue alligator leather). Is this the L.U.C for jeans, trainers and a hoody? There are other aesthetic touches that set it apart as well: a vertical brushed finish to the dial that's echoed in the brushing to the caseband – the two separated by a smart polished bezel – and a more subdued finish to the movement, notably in the laser-etched text and the lack of a gold micro-rotor.
So back to our question; does it work? It wears well, is unarguably youthful, yet the movement is still an L.U.C calibre – calibre 96.53-L – and you're still buying a Chopard L.U.C. As to the question of value, anyone buying one of these is going to go into it with their eyes open. At £6,770 it comes in at little more than half the price of its gold siblings (rose gold: £11,230, white gold: £12,280) so that could count as great value; on the other hand I think it bears a passing resemblance to the Longines Heritage 1945.
Look closely and Chopard's attention to detail does elevate it above a Longines – that should go without saying – but the L.U.C XP in steel is a little rougher round the edges than I expected, metaphorically if not literally.
Whereas the XP in gold can be seen as an appealing alternative to a Calatrava, this price and design mean it is up against watches from Zenith, Jaeger-LeCoultre, Grand Seiko, Girard-Perregaux, Ulysse Nardin, Glashütte Original and Hermès, all of which make a steel time-only watch (admittedly with varying degrees of youthful styling) with a good quality movement for between £5,500 and £8,000. Minimalism is a real strength of Guy Bové's dial design on the XP but here that large expanse of brushed metal seems very blank. For my money, the rivals feel just that little bit more sorted. 
Let's turn now to the second of our two L.U.C watches. This is the L.U.C XPS 1860 Officer in white gold and it is a wholly different proposition. It is an evolution of (although not a replacement for) the L.U.C XPS 1860 Edition, which is marked out by a sector dial and railroad minute track. This version, in the language of the press release "harbours a wealth of secrets and symbols" – which is to say that it has a lovely honeycomb pattern guilloché dial and an officer caseback with decoration to match. 
Officer casebacks are so named because they were used on the pocket watches of military men to protect the glass in the back of the watch (the officers, one assumes, would not have been satisfied with a solid caseback). They pop up – pun intended – every now and then on a wristwatch, really just to add a little touch of whimsy to an existing watch, like the Patek Philippe Calatrava ref. 5227 from 2013. You might love them, you might think they're a waste of time – as with so much in the watch world…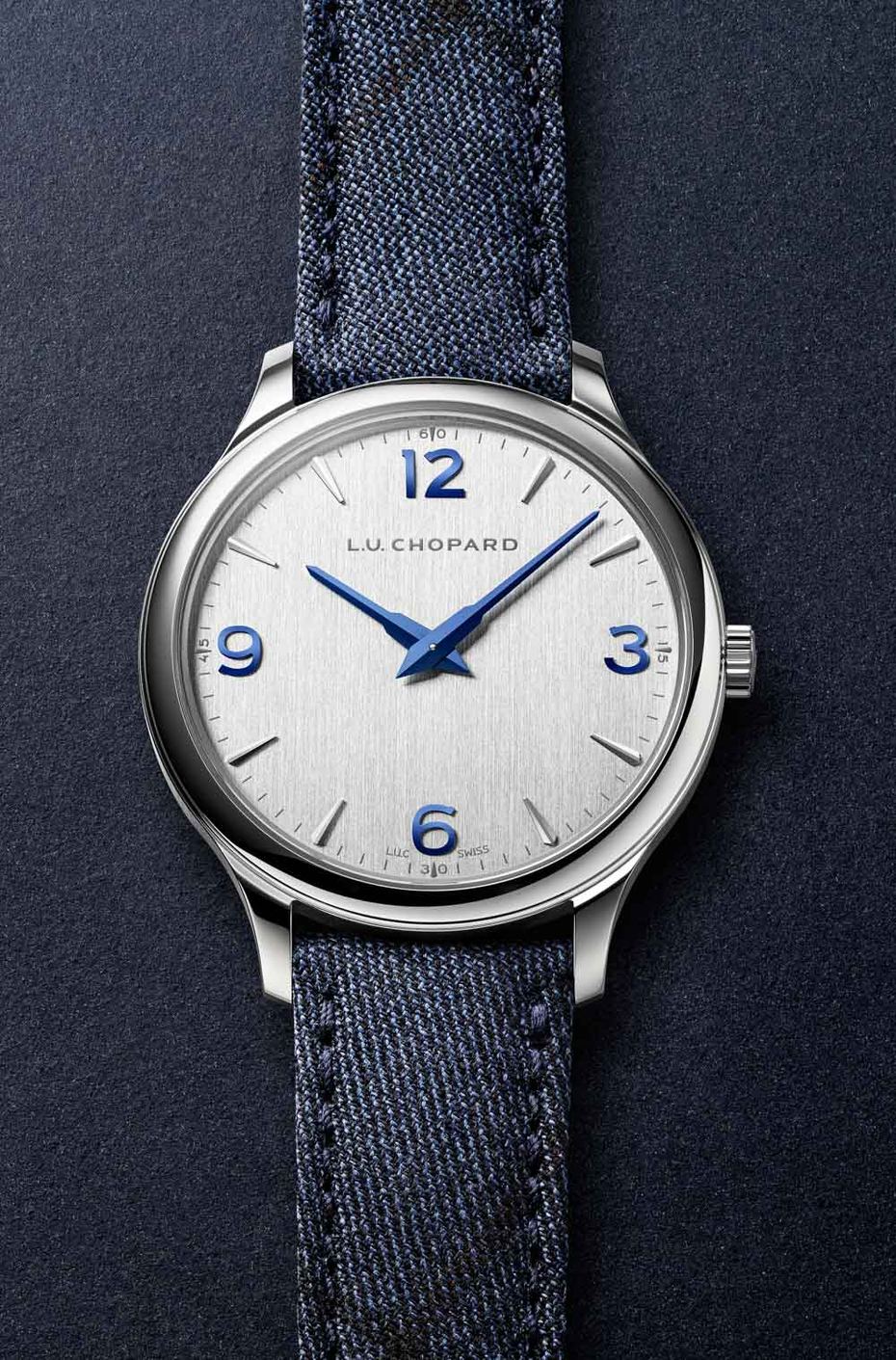 What they do beyond adding a slightly theatrical flourish to the spectacle of a sapphire caseback (already a bit of theatre on the wrist) is give manufacturers another canvas on which to show off. (I guess they do still retain the ability to protect your sapphire caseback, but if you drop or knock one of these hard enough for that to be relevant, you're in trouble regardless.) And Chopard has taken that opportunity to bring back a motif that used to adorn its watches around the turn of the 20th century. Push the button concealed on the crown and the caseback will pop open (to a precise 90 degrees) to reveal its engraving.
Back then, it is said, all Chopard watches came with a little engraving of a beehive surrounded by bees on the movement and inside the case; it has been used on L.U.C watches before, from time to time. Each individual L.U.C XPS 1860 Officer has a unique engraving, with the bees in a different position. Why bees? It is not clear that this was the original reason, but Chopard invokes the values of cooperation, hard work etc as befitting its watchmaking. 
This is an L.U.C watch with style, with flair. It doesn't take itself too seriously, but in no department does it skimp on quality. It's COSC-certified and given the Poincon de Geneve seal of approval. It elevates the 1860 Edition – which while smart, is a little anonymous – adding texture and an Art Deco sensibility that is achingly smart. It does have a date window, which I think it would significantly benefit from not having, but it is not much thickened by the addition of the hinged caseback (7.7mm over 7.2mm) and like all other XPS models, measures 40mm across. 
At £23,210, it's back in familiar territory for an L.U.C watch (albeit a fair bit pricier than the other XPS models, even the Poincon de Geneve in platinum). I don't expect Chopard to sell many – I can't imagine they intend to make many – and it's nowhere near as significant an addition as the XP in steel. But it is so much more confident; you can tell that this is the brand operating in its comfort zone. 
However, the very existence of the steel XP implies that Chopard L.U.C has identified a need to offer something more "commercially appealing". It's not quite perfect, but in principle the idea of less expensive L.U.C watches is something we can all get behind, surely. And if the trade-off is that it gets to keep making watches like the 1860 Officer, then great. Chopard L.U.C watches already come in a wide range of flavours, and these two watches show Chopard is capable of expanding that even further.
---
This article was first published on Salon QP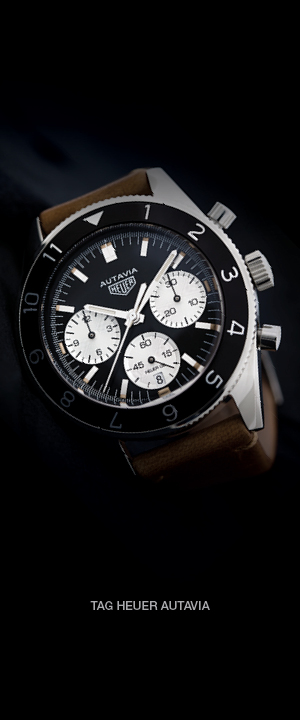 Agree? Disagree?
Be the first to start a discussion.